Custom Injection Molding
& Design Since 1974

The best machinery & tooling
for custom plastic molding

During manufacturing, the company recycles all plastic scrap materials into appropriate products
Where Quality is Manufactured!

Medway Plastics Electric Co-Generation System
This is considered a "Green" technology for generating electricity from natural gas. This system also recovers the heat and converts it to refrigeration for mold cooling in the plant; it also provides back-up power for the entire plant in the event of a power outages.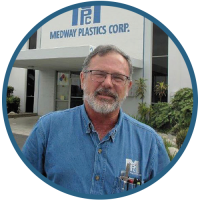 Investments help Medway Plastics control energy costs.
Long Beach, Calif. — Family-owned Medway Plastics Corp. is having success using fully insulated Thermal Control Solution-brand radiant heating systems on its larger injection molding machines.